Yellow Labrador Retriever Border Collie Mix Puppy For Adoption in McKinney TX
Meet Sophie,Yellow Labrador Retriever German Shepherd Mix Dog For Adoption in McKinney Texas – Adopt Sophie
Sophie is an adorable, energetic 9 month old Yellow Labrador Retriever Border Collie mix puppy for adoption in McKinney, Texas, near Plano, Arlington and Dallas Fort Worth.
Sophie is a medium sized dog at 47 pounds. She is very healthy, spayed, micro-chipped and up to date on shots. Sophie is house broken and good with other dogs and cats. She is very good with respectful, gentle children, and is a wonderful family companion.
Sophie's owners are devastated to have to look for a new home for her. After adopting her from a rescue several months ago, there has been a growing dynamic between their two Boston Terriers as a result of Sophie's presence. While this is in no way Sophie's fault, the owners have been advised by a trainer that the other dog's aggression towards each other has been triggered by Sophie's presence in the pack order.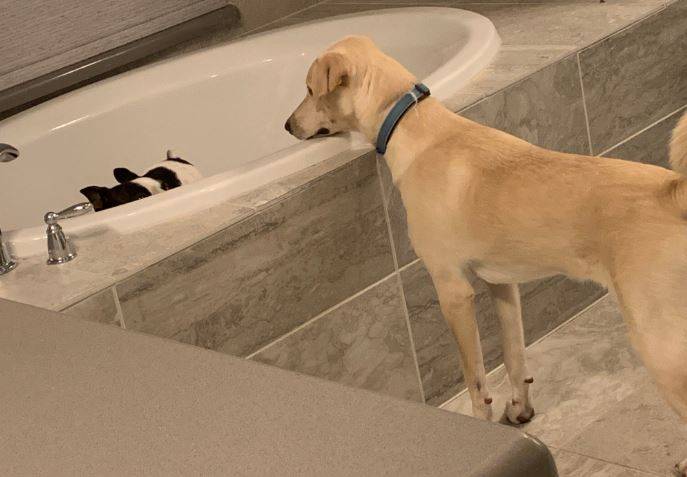 They have been advised that rehoming Sophie will be the best solution to fixing the problem. She is such a sweet and loving dog that she will add tremendous love, joy, laughter and companionship to the lives of a special family able to offer her the care, love. exercise, playtime and attention she needs and deserves.
Sophie is looking for a home with owners who own their own home and have a securely fenced back yard for her to romp and play in. They should have a schedule that allows lots of time to spend with Sophie.
Sophie will be rehomed with all supplies and veterinary records. Please offer this beautiful and very loving and devoted 9 month old Yellow Labrador Retriever mix puppy the loving home she needs and deserves today. Sophie can't wait to show you the true meaning of unconditional love. Adopt Sophie today.
There is a $75 adoption/rehoming fee. Supplies and veterinary records will be included.
Questions about Sophie? Contact our McKinney Dog rehoming team today. Text "Sophie" to (888) 833-2128 or email [email protected] We look forward to hearing from you.
---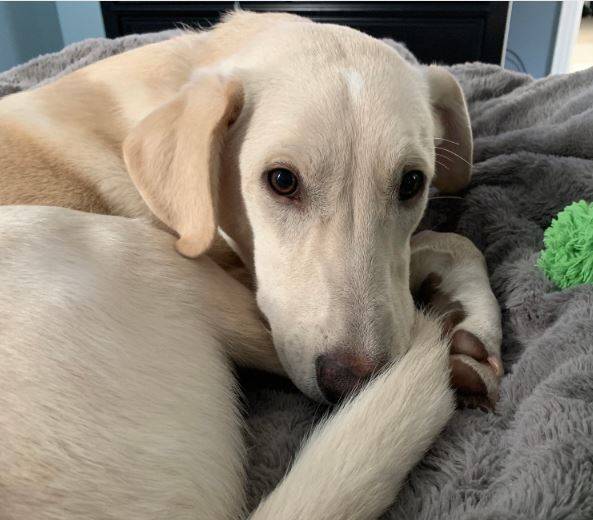 All About Sophie – Yellow Lab Border Collie Mix Dog For Adoption in McKinney TX
Name of Pet: Sophie
Location: McKinney, TX, 75071
Type of Pet: Dog
Breed of Pet: Yellow Labrador Retriever mix Border Collie
Sex of Pet: Female
Age of Pet: 9 Months
Spayed/Neutered?: Yes
Health Problems: No
Behavior Issues: Yes If Sophie does not get enough playtime or energy out, she can be known to chew our shoes, our sons toys, and just about anything that maybe left on the floor. Pretty typical puppy behavior, but just warning so new owner spends time letting her run, playing fetch or taking her for walks. Outside of chewing, when she is not receiving this type of exercise, she is known to dig quite the holes in our backyard. Again, all of this can be avoided with attention and exercise.
I also should note that Sophie becomes very anxious in the car – so we typically load a crate into our SUV to calm her anxiety so she feels a bit safer.
Up To Date on Vaccinations: Yes
Gets along with cats: Yes
Gets along with dogs: Yes
Good with Children?: Yes
House Broken or Litter Trained?: Yes
Crate Trained?: Yes
Accessories Included: – Large Metal Crate (Foldable to move and/or store easier)
– Pad for Crate
– Collar
– Any of her dry food that we have left over
– A few rawhides as she likes to chew on throughout the day, especially in evenings
– Some of her favorite stuffed animals
– A blanket that we all cuddle with to ease the transition with our scent (unless instructed otherwise)